$

120,470.00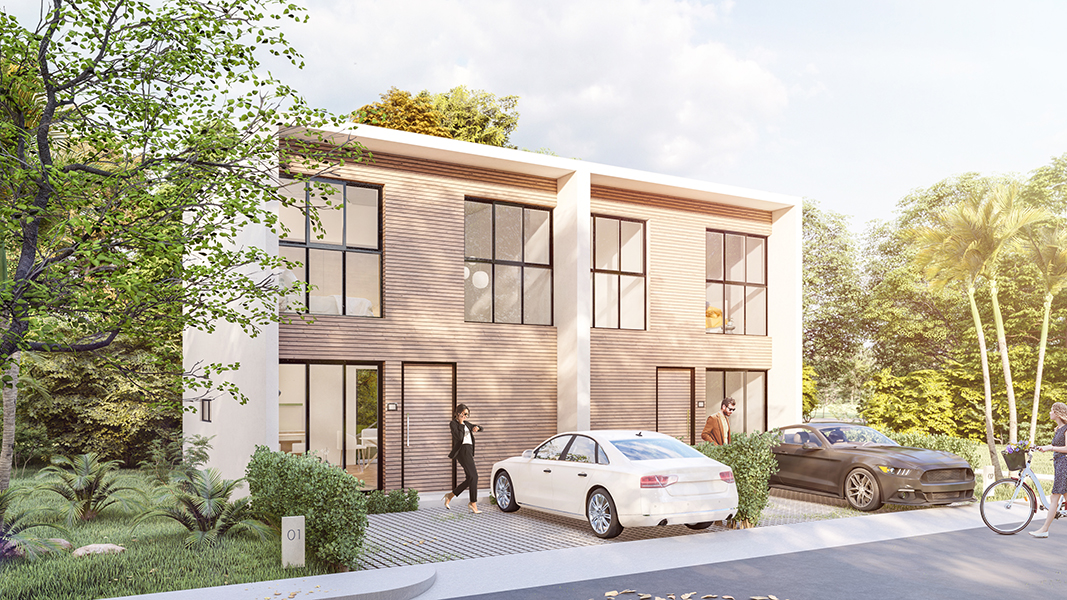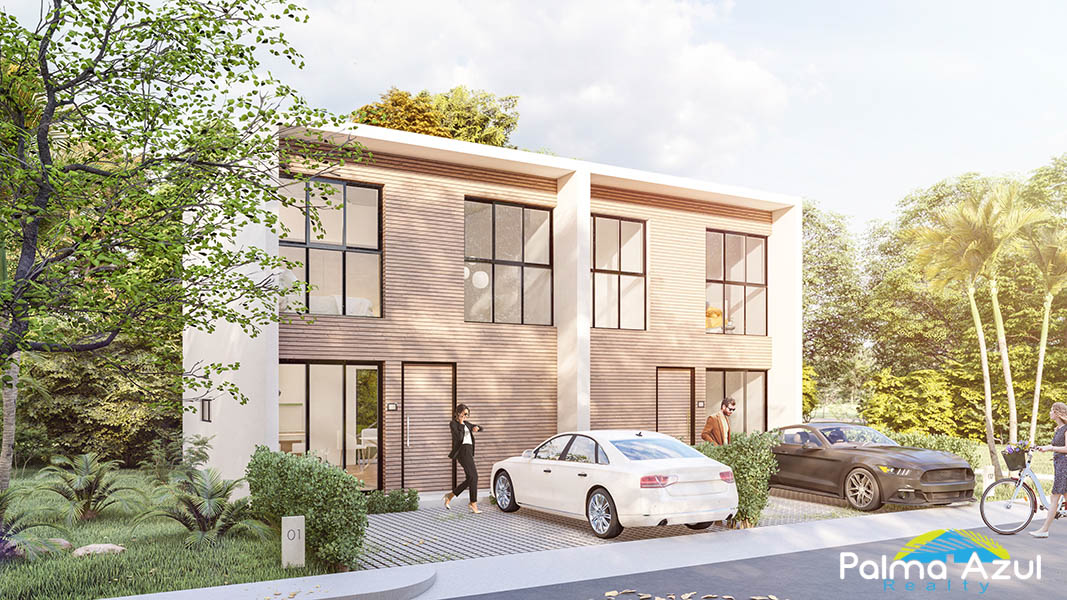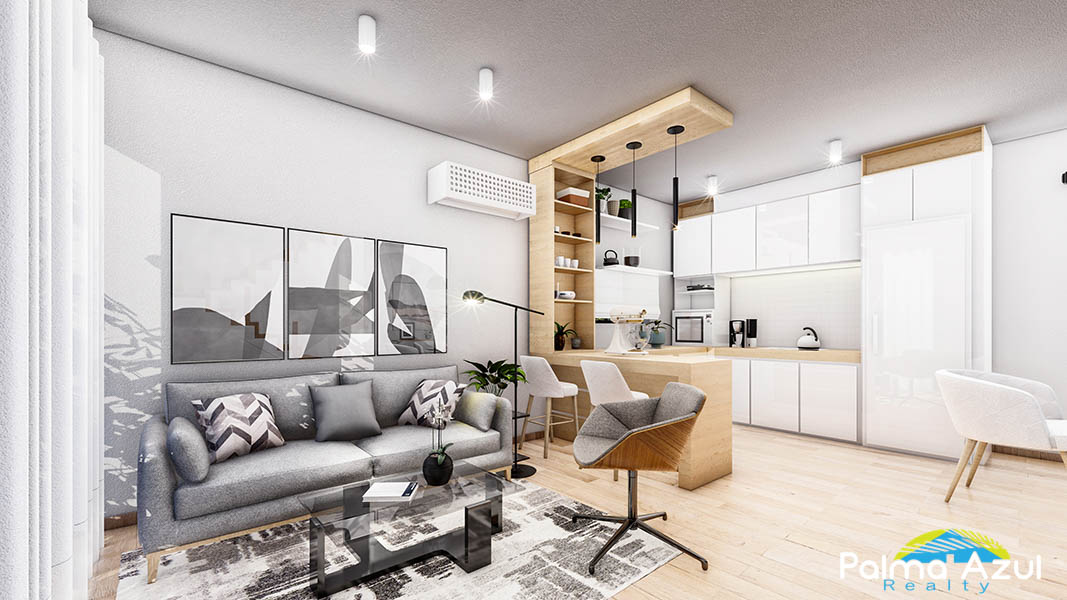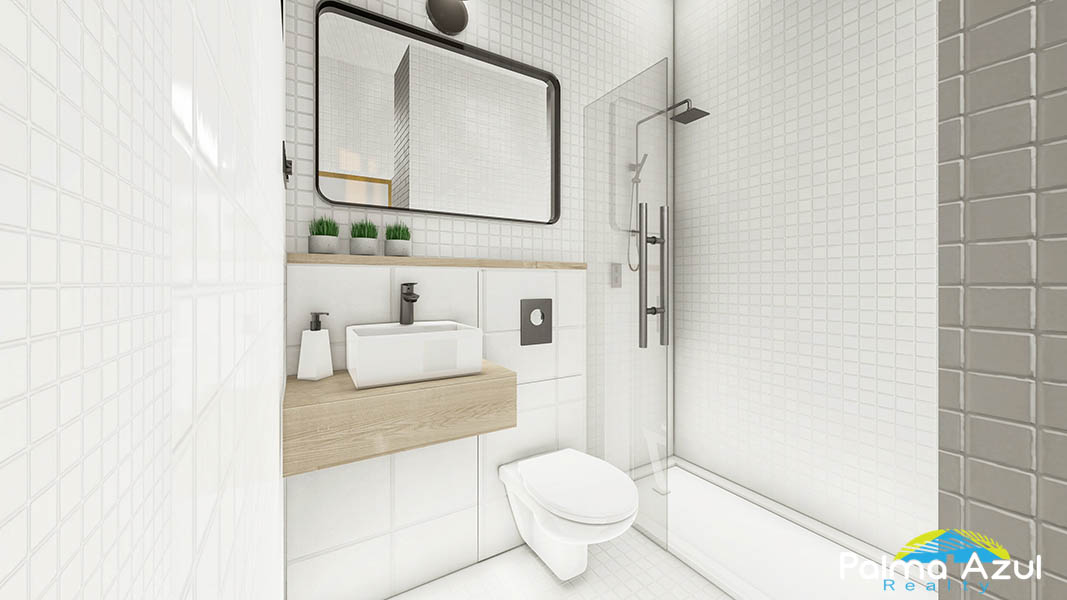 Villa Martina, a two-bedroom townhouse in a natural environment
Villa Martina is a project of 15 villas of 180 m2 (1937.5 sf) and 96 Townhouses of 102.90 m2 (1107.61 sf), all on two levels, within the masterful project of Vista Cana. Surrounded by a refreshing nature. Within the urbanism it has its road system, roads to enjoy the outdoors and recreation areas such as swimming pools and parks, as well as a clubhouse that can be used for festivities or special occasions by its owners.
All the units have two private parking spaces for vehicles. In the main part of the complex, it is contemplated the realization of the access control area to the residences, through a guardhouse with a sentry box (in addition to the main one of the Vista Cana project).
Includes: – White line:
Washer dryer
Kitchen / Stove
Fridge
3 Air conditioning.
– Home Automation Service: (optional)
"Domotics" to turn on electronic equipment remotely, to open and close the access doors and surveillance system by security cameras, through smartphones or smart phones, which is included in a separate package in case the new user requires it.
The areas of importance in Villa Martina:
4 corresponds to 102.90 m2 townhouses,
2 areas for townhouse of 180 m2
Playground:
Common pool, measure 16 × 7, from half a meter to 2 meters deep.
Guest parking
Gym
Exclusive clubhouse for Villa Martina owners
Ecological Landscape Park
Hydro sanitary installation
Gas tanker
electrical installation
Specifications:
102.90 m2 of construction (1107.61 sf)
2 bedrooms with private bathroom
1/2 guest bathroom
Kitchen
Dining room
Breakfast bar
Living room
Terrace
Washing area
Yard
2 parking spaces
LOCATION:
20 MIN PUNTA CANA INTERNATIONAL AIRPORT
7 MIN DOWNTOWN PUNTA CANA
20 MIN BLUE MALL PUNTA CANA
8 MIN SAN JUAN SHOPPING CENTER
5 MIN PALMA REAL SHOPPING CENTER
PAYMENT PLAN:
Reserve: US$2,000.00
Initial: 10% after 30 days
Construction Process: 30%
Against Delivery: 60%
Pool Specifications: outdoor pool, which will have its own sanitary services for proper operation
Specifications of the Park: Ecological semi-landscaped park whose elements of the park are constituted in its majority by OSB recycled wood of high resistance, as well as the sidewalks that are around the park, which were designed to offer you a place of rest to all users.
Gym specifications: covered gym that will have dressing rooms, showers, administrative areas and condominium in order to carry out the pertinent operations to control the performance of activities in the urbanization.
Maintenance will cost approx: US$100 Monthly
VISTACANA is a gated community in the Dominican Republic, located just 10 minutes away from Punta Cana International Airport and 5 minutes away from the most beautiful turquoise beaches in the Caribbean.
VISTACANA is designed to be a smart city with a mix that will include exclusive residential communities, schools, hotels, shopping and business center, and other amenities. These include an executive golf course, natural trail, parks, playgrounds, bark park (dog park), a sport complex, and a man-made lake with a beach for swimming, fishing, and other activities. Everything offers a contemporary lifestyle with a green mindset.
Residents and visitors of all ages will enjoy a unique living experience in an environment that combines modernism and the vibrant Caribbean culture.
A world of moments
VISTACANA is the escape plan to the world you've always dreamed of inspired by arts, culture, wellness and the calm of the waves.
High-end private residential communities.
Apartment complexes and villas for vacation rental equipped with high-tech domotica.
Illuminated 9-hole golf course for nighttime play.
Freshwater and saltwater lakes suitable for relaxing, swimming, and water sports.
World-class executive hotel.
Educational district.
Recreation areas.
Green areas with ecological circuits.
Running trails.
Cycling circuits.
Sport fishing.
Yoga spots.
Shopping center with an exquisite selection of stores and brands.
World class restaurants with exquisite gastronomic variety.
Caribbean Art Gallery.
Co working spaces.
Private electric mobility system: e-bikes and scooters.
Punta Cana:
Blessed with one of the Caribbean region's longest white sand coastlines–a whopping 48 kilometers (30 miles), punctuated with sky-reaching coconut palms–Punta Cana is the land of rest and relaxation by the sea.
Here, where the Atlantic meets the Caribbean, from the northern tip at Uvero Alto to the southern at Cap Cana, all-inclusive resorts and boutique hideaways offer all the whims and comforts of modern beachfront living.
Families enjoy miniature entertainment centers and water parks for children, while couples-only enclaves boast dream wedding locations, with secluded beachside lodging for an ultra-romantic stay. But it's not only about fun in the sun, soft sand brushing against your toes, and iridescent, clear water to swim in, go fishing, or dive for underwater life and shipwrecks.
The destination is also a golfer's destination, with 10 courses located all along the strip, a seaside escape with luxurious marinas and fine dining.
The Dominican Republic is the second largest and most diverse country in the Caribbean. With direct flights from The main cities of Latin America, the United States, Canada and Europe, is a country that stands out for the warmth of its climate and the hospitality of its people. The Dominican Republic is a destination without equal that has an extraordinary nature, fascinating history and great cultural wealth.
7 REASONS TO CHOOSE PUNTA CANA FOR YOUR NEXT INVESTMENT
THE BEST LOCATION IN THE CENTER OF THE CARIBBEAN

AIRPORT WITH FLIGHTS FROM ALL OVER THE WORLD (ANOTHER INTERNATIONAL AIRPORT IN PROJECT)

INVESTMENT OPPORTUNITIES WITH HIGH RETURN

TAX EXEMPTION

REVALUATION OF REAL ESTATE PROPERTIES

TOURISM IN CONTINUOUS GROWTH

FAVORABLE ENVIRONMENT FOR FOREIGN INVESTMENT
Details
Area : 1937.5 / 102.90 FROM: Square Feet / Square Meter
Address : Vista Cana Resort & Country Club, Boulevar Turistico del Este, Km 12.5
Country : Dominican Republic
Features
Video
Find on Map
Tags