$

67,500.00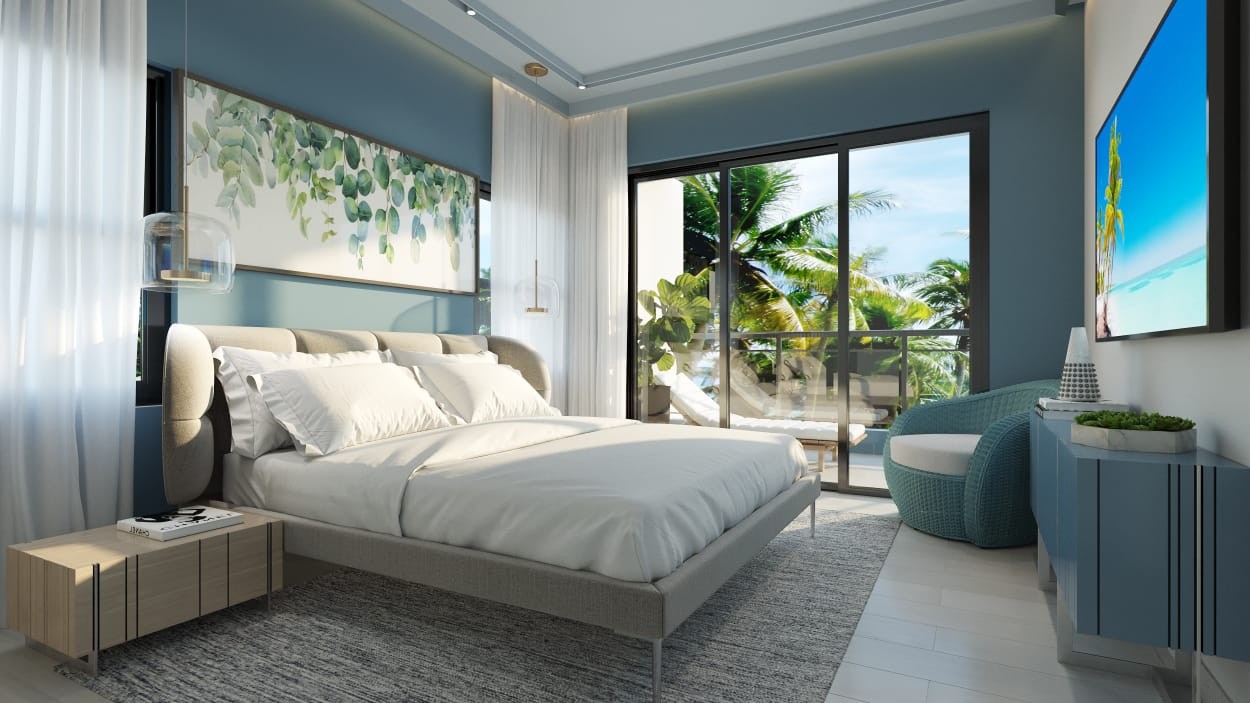 The Towers At Vista Cana / Studio Unit
The Towers At Vista Cana is a Condo-Hotel-type Housing Complex, consisting of 5 towers of 5 levels and 1 and 2 bedroom apartments, as well as studios (only 5 units total), with an ecofriendly facade and glazed balconies, a large opportunity for those looking to make an investment that generates monthly earnings while earning a high capital gain, obtain passive income combined with a lifestyle through the right to use your property.
About Vista Cana: Vista Cana is a residential complex that consists of developments of Villas and Apartments projects, also offering the opportunity to buy your own lot of land for the construction of your own home or developments. it is located in a central area of Punta Cana, at a very short distance from the main beaches and airports in the eastern part of the Dominican Republic. It will have a golf course with 24 hours of illumination, two artificial lakes (fresh water and salt water), sports facilities, vegetation and gardens that will make your stay and investment pleasant and a guarantee of satisfaction.
AMENITIES:
Social and recreational areas
Swimming pool and Jacuzzi
Relax area
Gym
Pub
Terraces
Pet Park
Health route
Elevator
Lobby
Studio-type units with 45 square meters (a total of 5 units in the entire project): It consists of a bathroom, walking closet, kitchenette, dining room for two, laundry area, balcony. From US$67,600.00.
1 Bedroom Apartments from 63.10 square meters: It consists of a room with private bathroom, corridor closet, guest bathroom, living room, kitchen, laundry area, balcony with access from the room and the living room. From US$89,999.00.
2 bedroom apartments from 110.5 square meters: It has 2 bedrooms, 2.5 bathrooms, walking closet, kitchen and living room, laundry area, balcony with access from the main room and the living room. From US$154,999.00.
PAYMENT PLAN:
Reserve with US $ 1,000
10% upon signing the Contract
Complete 40% of the initial amount during construction (availability of 18 installments)
60% against delivery
The Dominican Republic is the second largest and most diverse country in the Caribbean. With direct flights from The main cities of Latin America, the United States, Canada and Europe, is a country that stands out for the warmth of its climate and the hospitality of its people. The Dominican Republic is a destination without equal that has an extraordinary nature, fascinating history and great cultural wealth.
WHY BÁVARO, PUNTA CANA?
Located along 30 miles of white sand beaches and azure waters, Punta Cana remains one of the most luxurious and popular areas of the country and the Caribbean. Every year, more than 5 million visitors choose Punta Cana as their favorite destination.
LOCATION:
20 MIN PUNTA CANA INTERNATIONAL AIRPORT

7 MIN DOWNTOWN PUNTA CANA / COCO BONGO

8 MIN SAN JUAN SHOPPING CENTER

20 MIN BLUE MALL PUNTA CANA
7 REASONS TO CHOOSE PUNTA CANA FOR YOUR NEXT INVESTMENT
THE BEST LOCATION IN THE CENTER OF THE CARIBBEAN

AIRPORT WITH FLIGHTS FROM ALL OVER THE WORLD

INVESTMENT OPPORTUNITIES WITH HIGH RETURN

TAX EXEMPTION

REVALUATION OF REAL ESTATE PROPERTIES

TOURISM IN CONTINUOUS GROWTH

FAVORABLE ENVIRONMENT FOR FOREIGN INVESTMENT
Details
Property Type : Apartment
Area : 532.81 / 49.5 FROM: Square Feet / Square Meter
Address : Vista Cana Resort & Country Club, Boulevar Turistico del Este, Km 12.5
Country : Dominican Republic
Features
Main Room With Walking Closet
Find on Map
Tags