$

595,000.00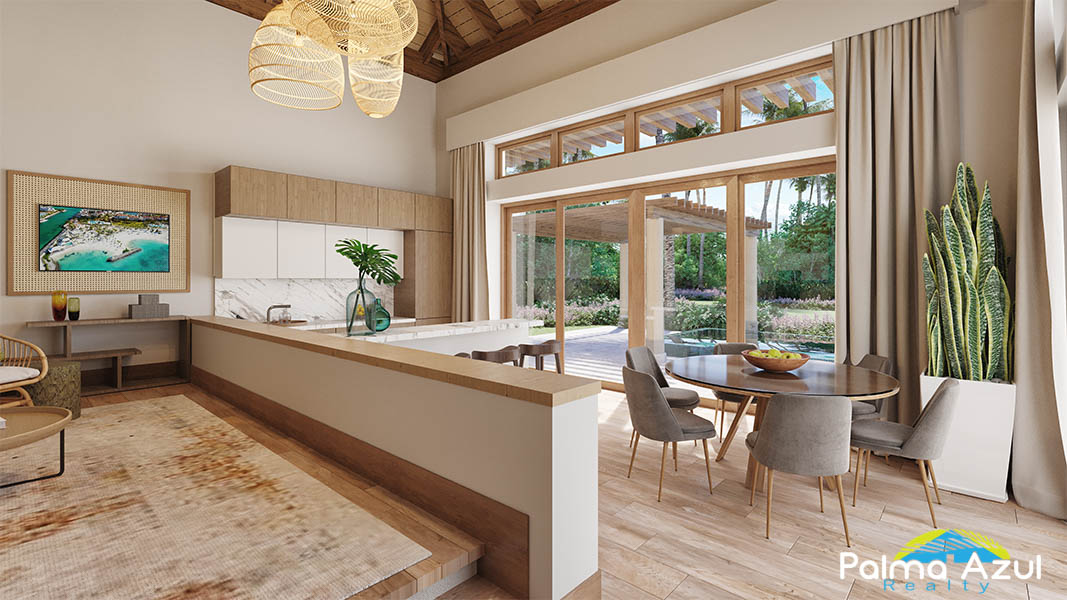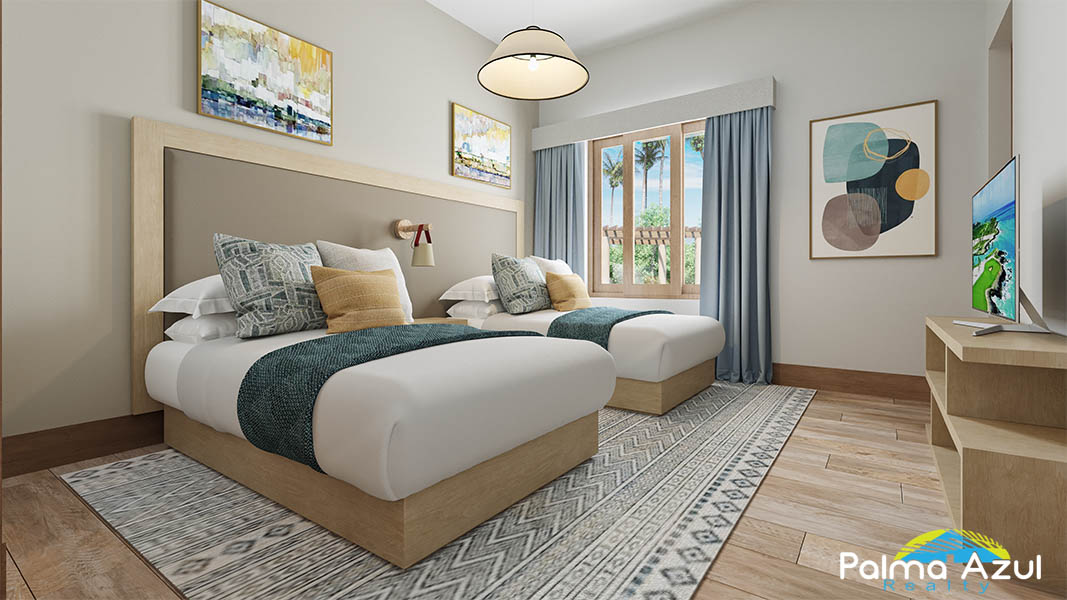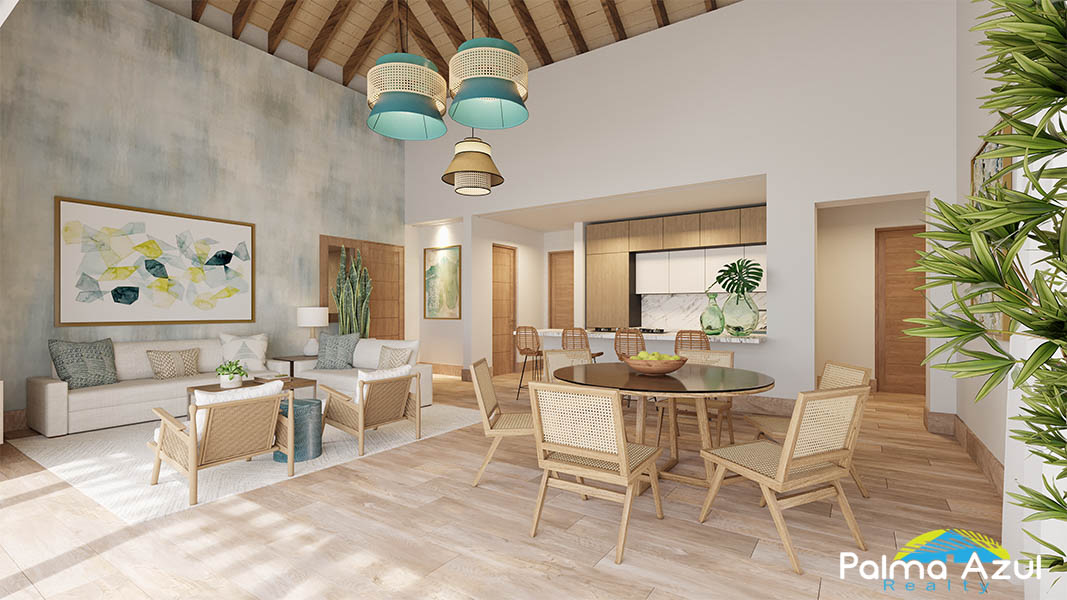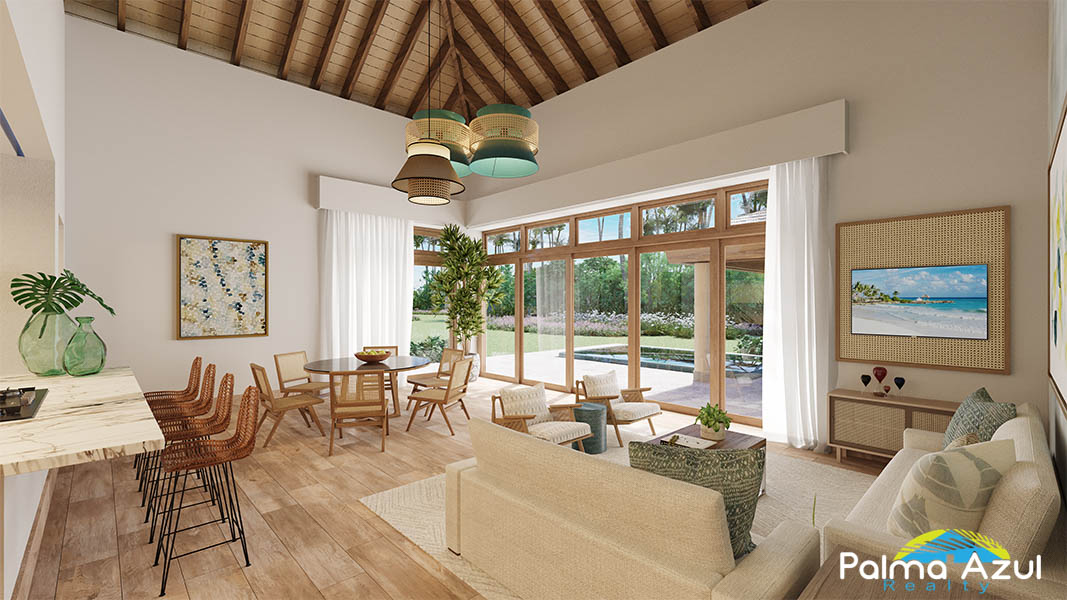 Green Village Living 3 bedroom villa in Cap Cana
THE PROJECT
Live in a place where nature and the comfort of the house of your dreams are combined in perfect harmony. This is Green Village Living, where
the word "home" has a new meaning.
This is where you will have the lifestyle you have always dreamed of. Two and three bedroom villas are available at Green Village Living
• Wide open spaces illuminated by nature
• Modern finishing finishes
• Amenities designed to enhance your day to day
Enjoy in your garden and terrace creating memories in the sun with your family, or a dinner with friends under the stars.
BENEFITS:
• Membership to the Green Village Clubhouse
(as long as you activate the membership within 12 months after the opening of the clubs)
Access to the beaches of Cap Cana.
You can choose a mooring in the Marina
Preferential rate at Cap Cana Heritage School.
You can acquire a membership of the Punta Espada Golf Club, the Eden Roc Beach Club in Caletón and other clubs and recreation facilities. (Previous compliance of the clubs)
Club with Pool (children's area and entertainment areas)
Private Access
24 hour security
Shopping Center (supermarket, restaurant, pharmacy)
PREMIUM LOCATION
Green Village Living in the center of Cap Cana, is close to everything:
Punta Cana International Airport (15 mins)
Blue Mall Punta Cana (12 mins)
Heritage School (12 mins)
Nacional Supermarket (12 mins)
Medical Dispensary (10 mins)
Chapel La Sagrada Familia (10 mins)
Minimarket & Pharmacy (9 mins)
API Beach (9 mins)
Gas station (9 mins)
Scape Park (8 mins)
Marina Cap Cana (8 mins)
Los Establos (7 mins)
Juanillo Beach (6 mins)
Club Eden Roc (6 mins)
Punta Espada Golf Club (4 mins)
Green Village Community Service Center (1 min)
AREAS:
Main room with bathroom, closet and garden shower
Second bedroom with bathroom and dressing room
Third Bedroom on the second level with bathroom, dressing room and balcony
Dining room
Cold kitchen and hot kitchen with pantry
Bathroom for visitors.
Indoor covered patio in stair area
Gazebo with area prepared for BBQ
Pool
Pergolada terrace
Room service
Washing area
Villa Equipped with white line
Parking lot
METRAJE
Total Area: 510 m2 (5489.59 sf)
Interiors Space: 345 m2 (3713.55 sf)
Exterior: 165 m2 (1776.05 sf)
Exclusive garden use: up to 550 m2 (5920.15)
TERMINATIONS
FLOOR: Imitation wood porcelain finishes in all interior areas. Ceramic or porcelain tile in laundry area and utility room.
DOORS AND WINDOWS: Sliding doors and windows with brown aluminum profiles and laminated glass; oak wood or similar quality in interior doors and locks and hardware in stainless steel and aluminum.
KITCHEN ROOM: Superior quality imported modular; granite top; chrome and stainless steel taps; modern appliances and stainless steel sinks.
TOILETS: Premium Chrome Finish Faucets; sink cabinet with top and stainless steel mixers.
HOME APPLIANCES: Top quality kitchen appliances; Air conditioners "inverter", mini split (efficiency SEER 18+) of the brand Carrier or similar quality and propane gas heater.
WALLS AND COVERINGS: Wooden ceiling in social area and secondary rooms; white plaster ceilings in bathrooms and kitchen; smooth drape and paint in interior areas; travertine or similar in bathrooms and quartz and natural stone tops in bathrooms and kitchens.
TERRACES AND BALCONIES: Coral on terraces and pool coating and wooden pergola in pool area.
About Cap Cana: Located on the eastern shores of the Dominican Republic,  is an exclusive private community with all the attributes of an ecological wonderland. This luxury destination is the home of miles of pristine beaches, towering cliffs, a Jack Nicklaus signature golf course, an equestrian center, an ecological adventure park and a bustling marina.
Juanillo Beach: Five miles of coastline, more than three miles of White sand beaches and crystal clear turquoise waters; our Juanillo Beach has been rated by UNESCO as one of the best in the world.
Punta Espada: is the first of three Jack Nicklaus Signature golf courses to be developed at Cap Cana. It is recognized as the best golf course in the Caribbean and Mexico and #35 in the world, with eight beautiful holes along the ocean and fifteen of its eighteen holes overlooking the Caribbean Sea. From all points of Punta Espada, golfers are blessed with extraordinary views of the Caribbean, where the sea contrasts against the emerald fairways and the perfect greens.
The Marina:  is the perfect place to begin a day of adventure, sailing in your yacht, touring the beautiful shores of the Dominican Republic, fishing and exploring the treasures of our island to return to our safe harbor, your home, Cap Cana.
Los Establos: is one of the most complete equestrian center in the Caribbean, offering multiple disciplines such as dressage, equestrian jumping, polo, reining, cross country and others.
The Dominican Republic is the second largest and most diverse country in the Caribbean. With direct flights from The main cities of Latin America, the United States, Canada and Europe, is a country that stands out for the warmth of its climate and the hospitality of its people. The Dominican Republic is a destination without equal that has an extraordinary nature, fascinating history and great cultural wealth.
WHY PUNTA CANA?
Located along 30 miles of white sand beaches and turquoise  waters, Punta Cana remains one of the most luxurious and popular areas of the country and the Caribbean. Every year, more than 5 million visitors choose Punta Cana as their favorite destination.
7 REASONS TO CHOOSE PUNTA CANA FOR YOUR NEXT INVESTMENT
THE BEST LOCATION IN THE CENTER OF THE CARIBBEAN

AIRPORT WITH FLIGHTS FROM ALL OVER THE WORLD (ANOTHER INTERNATIONAL AIRPORT IN PROJECT)

INVESTMENT OPPORTUNITIES WITH HIGH RETURN

TAX EXEMPTION

REVALUATION OF REAL ESTATE PROPERTIES

TOURISM IN CONTINUOUS GROWTH

FAVORABLE ENVIRONMENT FOR FOREIGN INVESTMENT
Details
Area : 5489.59 / 510 FROM: Square Feet / Square Meter
Country : Dominican Republic
Features
Main Room With Walking Closet
Find on Map
Tags